Power: 2900 W

Gas consumption: 210 g / h

Boiling time (wind speed 3 m / s): 3 min 45 s

On: Piezo

Autonomy: 1 hr 10 min in CV300 +, 2 hrs in CV470 +

Fuel: CV300 +, CV470 +

Weight: 274g

Dimensions (L x W x H): Ø 12 x 11 cm

Stoves that work with Campingaz® CV300 Plus and CV470 Plus valve cartridges, can be easily disconnected, even when they are not completely empty, which is a great advantage for transport and storage.
The same features as Twister® Plus, but with the added advantage of a piezo ignition
Review Features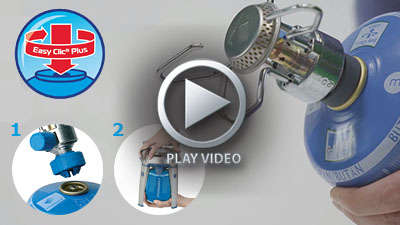 Easy Clic® Plus - Campingaz ® patented valve cartridge connection
Easy Clic® Plus, an even more convenient system, made for valve cartridges - simply rotate 45 ° to connect!
1 - Fix : Make a small pressure on the device with the cartridge.
2 - Connect : Turn left 45 ° to the device and it is already connected! The valve cartridges also feature a self-adhesive valve, which can be disconnected and reconnected even when it is not empty